What Things to Know Before You Travel to Peru
What Things to Know Before You Travel to Peru? If you plan to go to a certain destination, one tends to search for a list of some of the more positive aspects of the country you want to visit. ? If you plan to go to a certain destination, one tends to search for a list of some of the more positive aspects of the country you want to visit. 
Below is a list of the tip 10 things to know before you travel to Peru.  We include paperwork, items to have, ideas and more!
Update Your Passport Before You Travel to Peru
There is always the question as to whether you'll need a visa to travel to Peru.  The short answer is no, most foreign citizens do not need a visa to visit, however there is also the matter of your passport. 
One of the first things we mention to any of our travelers before coming to Peru is to make sure they have their passport updated,  your passport should be valid for at least 6 months after the date of entry into the country. 
Imagine booking your dream Peru trip with a Machu Picchu hike included to then be told at the airport you are not allowed to board the plane? Sounds like a pretty grim scenario. 
In Cusco Journeys we make sure you'll be notified at least 6 times before coming to Peru to make sure your passport is up to code. 
For more information about Visa requirements and your passport you can check the USA State department website listed below: 
https://travel.state.gov/content/travel/en/international-travel/International-Travel-Country-Information-Pages/Peru.html
When You Travel to Peru Plan for Lima
Lima is the capital city of Peru. Many people planning to travel to Peru simply disregard the city and end up taking a connecting flight straight to either Cusco, The Amazon, Lake Titicaca, etc. This ends up being a mistake, this city has plenty to offer in various aspects.  
To start out, Lima has quite the culinary background.  This city breaths food in a way no other South American destination does. 
Lima doesn't just have 2 of the world's top 10 restaurants (Central and Maido), it has amazing places to eat no matter where you look, every street corner has something delicious to try.
When you travel to Peru, food should be on your priorities list. While in Lima you might want to try:
Lomo Saltado – A Sautéed Beef Dish.

Aji de Gallina – A chicken and yellow hot pepper based stew.

Causa – A Yellow potato dish stuffed with a variety of fillings.

Ceviche – The Peruvian flagship dish.
Check out the impressive cathedrals, churches, colonial buildings, check out the nightlife in Miraflores and Barranco or just take a walk on the beach. 
If you choose to stay for 2-3 days you might want to take a trip down south and visit the Paracas nature reserve, the Sand Dunes in Ica or fly over the mysterious Nazca lines.
Remember that you will have plenty of activities at your disposal all the way from coastal Lima to Machu Picchu in the cloud forest.
Before Travelling to Peru Remember the Voltage is Higher Here
In the USA we have electrical sockets that run at 120 volts, in Peru the sockets will run at 220 volts.
Yes, this means that if you plug in your electrical device without a voltage converter it will burn itself out, and quite quickly. So this might affect something like a hair-dryer, curler, straightener, etc. but it should not be an issue for items such as cell phones, laptops, tables, etc. 
In fact some of these devices might actually charge somewhat faster as well, the downside is that they might feel a bit warm while charging. So when you travel to Peru remember to charge your devices when you really need to and it would be wise to unplug your charger when it's not in use.
Before You Travel to Peru get Travel Insurance
If you are planning to travel to Peru or in fact any other country we suggest for you to consider travel insurance.
You never really know what might happen once you are in a strange new place and there are many things to consider Peru in itself is a safe country to visit and as an agency we take precautions in making sure all travelers are safe at all times. 
That being said,  you never know if your flights might be cancelled due to some unforeseen circumstances (Covid-19 for instance). International medical insurance can also be quite handy in case you twist an ankle taking the Salkantay before your Machu Picchu tour.
Pricing for a doctor's visit can range from the very affordable $30 to several hundred depending on the emergency. 
When you purchase either travel or international medical insurance remember to read the fine print and make sure you are covered for the issues that are more likely to arise. As a side note, we always have a doctor on standby in case any of our guest have small issues like elevation sickness or a stomach bug.
Before You Travel to Peru Visit your Doctor and Pharmacist
Before you travel to Peru make sure to stock up on your medications. If you visit Lima in the winter months you'll find yourself with a very humid climate, sometimes up to 95% humidity. 
This might bring discomfort to those with allergies. Peruvian drug stores will have all the necessary medications but they might be under different names and brands so having a prescription with the chemical name will definitely help. There are no necessary vaccinations for Peru but in case you are going to the Amazon you might want to purchase some malarial medication as a precaution. 
Some travelers will even get a yellow fever shot before arrival.  It's not likely for someone to get sick but it's always better to plan ahead.  
It is likely that yourself or someone in your group will have election sickness at some point during your time in Cusco, stocking up on altitude sickness medication might be a good thing before traveling to Peru.
You can also find it basically everywhere in Cusco but it's always better to travel prepare. Peru is an exotic destination so a lot of this comes with the territory. 
For more information on vaccinations or what they suggest before you travel to Peru, you can check out the CDC's website below:
https://wwwnc.cdc.gov/travel/destinations/traveler/none/peru
Before You Travel to Peru Know the Best Season
Peru basically has 2 seasons and some fluctuations in between.  There are three regions in the country and they all have a variety of climates. Choosing one particular month of the year might give you amazing climate in one destination while it might be the rainy season in another one.
Lima for example will commonly have a cold and humid winter where you won't see much sun from June to as late in the year as November. Once we enter the mid December you'll start seeing rays of light coming in through the grey sky and once into January it will be hot. 
The Lima summer will last until May and as I mentioned, it gets hot and the sun's rays are very strong here.  Remember Peru is very close to the equator.
This is entirely different for places like Cusco and Machu Picchu though. From December – mid February the climate will be warm and we'll have quite a few showers. We'll get blue Andean skies as well but since this is the rainy season in the highlands you'll get plenty of rain as well.  
The dry season will range from April – early October.  The climate is very dry and it will be very sunny. The climate is in fact so dry that you'll need lip balm or chapstick during your stay.
The elevation also plays a role in burning your face and chapping your lips, we're so high up that even if it does not feel warm you are most likely getting burned.
Cusco is situated at over 12,000 feet (3399 meters above sea level) so precautions are always necessary. We always suggest that when you travel to Peru you choose dates between April and November. That way you get some great coastal weather and you won't have to worry about the rains in the Andes. Remember though that May – July are the busiest and there will be plenty of tourists. 
Make Sure to Understand Peruvian Currency and Currency Exchange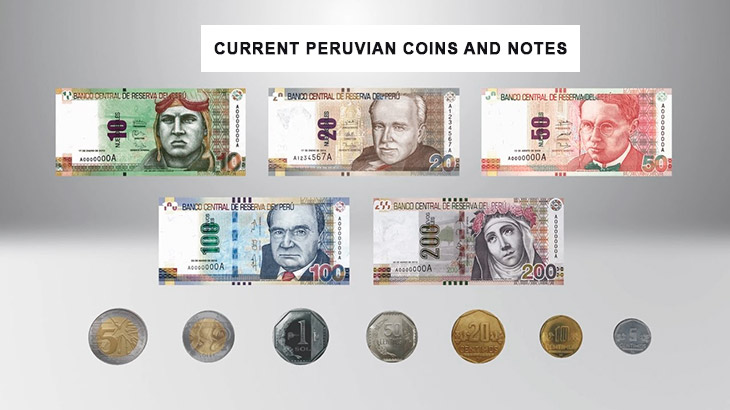 Before you travel to Peru get acquainted with the local coin, The Peruvian Sol (Soles Peruanos S/). Now, the American dollar is widely accepted in Peru. You can go to a drug store, supermarket, pay for tours, etc. with US currency but what if you want to buy bottled water from a small merchant and not a big supermarket chain?
Or if you don't want to be annoyed with daily exchange rates or different places giving you change in Peruvian soles at  a strange exchange rate? 
You can lose quite a bit of money doing it this way. We suggest exchanging a few hundred dollars worth of currency at a time at money exchange shops at the airport or certified shops throughout Lima. 
You can also go to any bank to exchange currency, the downside is that the rate will be lower than the rate you would receive at a currency exchange shop. At the time of writing this article the US dollar is at $1 to 3.50 Peruvian Soles but it's dynamic, it changes daily. Below we've added a currency calculator to check on what the rate is before you travel to Peru. 
When you make a Machu Picchu reservation with us we actually send a pdf with information that includes reliable currency exchange houses near your hotel in Lima, Cusco, Machu Picchu, Juliaca, etc.
Ask Before Taking Photos of Local People
Imagine this scenario, you travel to Peru, fly into Cusco, check into your hotel and off you go to walk around the city.
You run into a group of locals walking around with an alpaca while wearing traditional garments and want to just snap a picture for Instagram, sounds pretty cool right?
Well not so much, at least not to the locals.  Many of the native Cusquenos expect to be paid for the picture, they live from the money they make taking pictures with tourists and whatever tips they receive.  
It's best to wait, ask if it's ok and assuming they agree, to give them a couple of bucks. 
Not to each individual person in the group though, many times they will receive the money and then someone else in the group will also ask for  money.
Don't worry they share the wealth so giving one a few dollars is the same as giving it to the entire group. 
When You Travel to Peru Do not Forget to Tip
Peru is one of those countries where a guide, waiter and even delivery man will appreciate a tip. 
There are some countries where this is not the norm and it can be somewhat offensive, this is definitely not the case anywhere in Peru be it Lima, Cusco, Machu Picchu or even the Amazon. 
There is no set percentage for a tip, it's more of a symbolic gesture. 
If you eat at a cheap restaurant be sure to leave a few soles for the waiter and if you eat at an expensive one you'll probably want to leave a bit more.
Again this is a symbolic gesture so don't stress out too much about percentages to tip.  If the service is exceptional, throw in something extra, the locals will really appreciate it.
When You Travel to Machu Picchu Arrive a Day Early
When you travel to Peru, you want to eventually reach Machu Picchu. So now we've finally reached the part of the Peru tour package where you are going to finally visit the stone city of the Inca. 
The best possible itinerary is usually to arrive a day early into the small town of Aguas Calientes located at the very bottom of Machu Picchu, have an overnight stay and the following morning head up to the Inca site. 
A fun activity for the day before at Aguas Calientes might be to visit the local hot springs.
They are no more than 10-15 minutes walking distance from basically anywhere in town (Aguas Calientes is very small). Afterwards enjoy a nice lunch or dinner at the local restaurants and enjoy this amazing location found in the cloud forest. What most travelers want is to have the photograph of the sun rising over the Andes from Machu Picchu. 
To ensure this, it is best to board the 5:00 am shuttle up to Machu Picchu to be able to enter the complex at the 6 am shift. After the Machu Picchu guided tour that will take around 2.5 hours you can experience Machu Picchu on your own or go for one of the additional hikes, like Huayna Picchu.
Si te gustó este artículo y la información que encontraste, ¡regálanos 5 estrellas!